An exciting, fun, original interactive show that puts you right in the middle of the pirate action. Perfect for all ages. Adults will be laughing and the children will be thrilled by the excitement. Your journey begins the moment you arrive and are sworn in as part of the crew. Then you learn to sword fight, navigate, swab the deck, escape from jail and rescue lost treasure. You might even see a "mermaid".
The entire show is designed to make you feel like a pirate. At the end of our voyage each guest departs with a souvenir and a memory to last a lifetime!
The Cloudia Sails Out of America's Cup Harbor.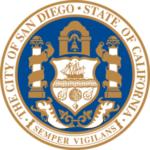 The Cloudia operates out of the beautiful City of San Diego, California and can be found docked in the America's Cup Harbor near Point Loma. City of San Diego ® and logo are the registered trademarks of the City of San Diego.